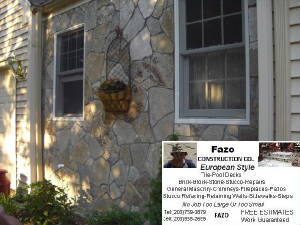 Finding the perfect masonry company is just around the corner. That's why our company is one of the most trusted companies in Connecticut. We have 25 years of experience from working with concrete in Europe and decided to bring our luxury concrete design skills to the United States. Our services include: Patios, walls, stucco, limestone, tile, hardwood masonry, and any other concrete service you can think of! We guarantee that all work done around the house will be neat, permanent, and stable. Appointments will be set at the location where the work is needed and examples of ideas will be provided. Everything is done appropriately and step by step without ruining any other plans scheduled for future projects. Payments will be accepted when the job is completed and after your complete satisfaction.
FREE ESTIMATES
10% Summer Discount
Give us a call today, 203 759 0879.
Don't let the address discourage you, we do work all over Connecticut!